Monthly Archive
You are currently browsing the monthly archive for July 2008.
July 31, 2008 in advance reviews, authors, beach reading, bestsellers, book reviews, books, comic strips, fiction, novels, Publishers Weekly, publishing, reading, women's fiction, writing | 7 comments
This just in: a review in PW for JUST BREATHE. Publishers Weekly has always been good to me. Even when the review is less than a rave, the critique is fair as opposed to gratuitously snarky. This one…ahhh. I can quit holding my breath: 
 

Just Breathe
Wiggs, Susan (Author)

ISBN: 0778325776
Mira Books
Published 2008-09
Hardcover, $24.95 (400p)
Fiction | General

Reviewed 2008-07-21
PW
Bestselling author Wiggs (Snowfall at Willow Lake) keeps her romance reputation going with this feel-good story of a wronged woman who gets out on her own and gets going. Sarah Moon, a comic-strip writer, is happily married to Jack Daly-until she comes home to find him entwined and naked with a business associate he had badmouthed to her just hours earlier. After five years of marriage, including months of infertility treatments because of Jack's cancer, infidelity is the last straw, and Sarah pack ups and leaves Chicago for her hometown of Glenmuir, Calif. Sarah uses her comic strip, Just Breathe, to vent her frustration and relieve her stress. The character, Shirl, is undergoing fertility treatments, getting a divorce and moving back in with her mom. (Comic strips open each section of the novel). And in Glenmuir, lo and behold, Sarah's dreams come true. She finds out she's pregnant, and begins a friendship with her high school nemesis, Will Bonner, who's now the town fire captain and a single dad whose lonely daughter reminds Sarah of herself as a young girl. Wiggs takes serious situations and weaves them into an emotionally wrought story that will have readers reaching for the Kleenex one moment and snickering out loud the next. (Sept.)
July 30, 2008 in authors, bestsellers, books, fiction, novels, publishing, reading, romance novels, women's fiction, writing | Leave a comment
     In stores now! Here's a beautiful reissue of fan favorite
Summer by the Sea
, a novel about food, family and second chances. It's the beginning of another season in the seaside resort town of Winslow, Rhode Island, and Rosa Capoletti is given the chance to rediscover the pleasures of love and laughter, food and wine, friendship and romance . . . And readers are treated to a full menu of kitchen-tested
recipes
, including Pasta Fazool and Ricotta Cheese Sugar Cookies. I loved writing this book, an affirmation that in love, as in life, there are always second chances.
Note: The new edition has some bonus material—a special preview and a coupon for $2 off

Just Breathe

, coming August 26th. There's also a sneak preview of this upcoming book
here
and a beautiful reading group guide
here
. Enjoy, and don't forget to use the coupon!
In honor of my favorite
niece
, here's a recipe for
Tonno al aglio
. We had it in
Amalfi
, and here's my version: 
Combine one can of good-quality tuna (drained) with 3-4 Tablespoons olive oil, 1 Tablespoon lemon juice, 2 Tablespoons capers, some grated lemon peel and a pinch of red pepper flakes. Season with sea salt. Serve on endive leaves, garnished with strips of roasted red pepper, crusty Italian bread on the side and a glass of Pinot Grigiot Friuli. Even better if you serve it on
Italian pottery
.
July 28, 2008 in authors, bestsellers, book titles, books, fiction, novels, publishing, reading, romance novels, women's fiction, writing, writing craft | 1 comment
Okay, this wasn't supposed to be the next post in the lengthy "backstory" saga, but I have some notes about the title of this book. I don't usually come up with the final title for a book right away. This novel had a lot of working titles. I've forgotten most of them, but here's my favorite:
Daddy Take My Kidney, Lover Take My Heart. This was a suggestion by one of my favorite writers, Ellen Recknor. But it gives away too much and it's too funny. I have no problem with humor except this book is way more drama than comedy. Eventually I came up with:
The You I Never Knew. This was one of those lucky titles that occurred to me out of the blue. Later, another of my favorite writers, Barbara Dawson Smith, sent me a clip from People about an 80s pop star who meets "the son he never knew." They ran a picture of the sixteen-year-old kid and the dad he finally found, and the similarity was eerie. Life imitates art?
The title works on several levels. We have Michelle, estranged from her former-Hollywood-icon father since she was seventeen. Now an adult single mother, she reunites with him for both the best and worst of reasons. They don't know each other anymore, and for both of them, the future depends on fixing the situation.
There's another storyline for this title as well. Cody, her teenage son, is in full-on rebellion mode, and one of the things he's struggling with is his identity. Is it important to know where your DNA comes from? Or is there something else at work? Cody and his biological father, Sam, have never known each other, a choice Michelle has struggled with all Cody's life. Now father and son meet for the first time, and the situation explodes.
So the title tells a lot about the story, but even before the reader knows anything about the plot, it's appealing. When a manuscript is shopping for a publisher, an appealing title can separate it from the pack.
July 27, 2008 in authors, bestsellers, book covers, books, commercial art, cover art, fiction, literature, novels, publishing, reading, women's fiction, writing | 4 comments
 So did you like the movie?
Now, back to the backstory of The You I Never Knew. This series of posts started out as a reply to an e-mail from a fellow writer. By this point in our saga, the book has been written, sold and edited. Now it's supposed to be published and become a bestseller, right?
Not so fast. One thing that happened to this book is it became "orphaned," meaning the editor who acquired it moved on while the book was in production. It's not a total disaster, but it's usually not the best news for a book, either. Another editor adopts the project, and it's a bit like she's getting a foster child she didn't ask for. In this case, it turned out to be a mixed blessing. They were right in the middle of designing the cover, and it looked like this:
Now, this is not a terrible cover. It's a fine piece of original art and the design and layout are reminiscent of a Nicholas Sparks cover
, so those are pluses. It also looks a bit like Annie Proulx's Close Range. But does this mean the cover is right for this book? Probably not. First of all, this would be a paperback original, not a hardcover book, so the art needs to "pop" on the shelf in order to stand out. The colors of this cover are muted and the mood is chilly. It might work on a hardcover jacket, but it doesn't look instantly warm and inviting, like a "feel-good" novel.
So the acquiring editor had left and the new one came into the middle of cover design, knowing nothing about me or the book. There was a bright spot, though. The new editor was the extremely smart Maggie Crawford. This is the kind of foster mother the book needed–an experienced editor who understood the market for this book. She'd worked with many bestselling authors and had a fine eye for marketing women's fiction. She took on the cover art issue with aplomb, and came up with this.
It's one of the least-relevant yet most commercial covers I've ever had. Here's my analysis: At the time, I was not a name-brand author. Yet splashing my name on the cover in huge letters gave the illusion that this was a big book by a big author. The lettering itself–big, graceful block lettering–was reminiscent of the font used for blockbuster author Sandra Brown.
Or for bestseller Marcia Muller:
 And of course, it capitalizes on the galloping popularity of the biggest novel of the '90s, The Horse Whisperer.

So I'm back on track, right? My new editor rescued the novel from obscurity and now all I'd need to do is kick back and let the sales roll in. Oh, and I'd be working with Maggie on the next book, brainstorming the plot and building on the success of The You I Never Knew. Right? Right?
NOT.
Tune in tomorrow for a continuation of the tour through Big Business Publishing….
(stay with me–like my books, this has a happy ending…)
There are tributes to Randy Pausch all over the world, so it seems a little redundant to put them here, but bear with me. I loved his last lecture, which reminded me so much of what I loved about my years as a teacher. Randy was the finest sort of teacher. He could take the most obvious and mundane bit of wisdom or common sense and turn it into something profound. Something a listener could take as a life lesson. He managed to turn a one-man lecture into a moving tribute to life, learning, passion and love. My favorite Randy story is the May 18, 2008 entry on his blog. He gave the charge to the graduates of Carnegie Mellon. As usual, his brief remarks left an indelible impression on everyone who listened. Here's a short video of the charge.
Publishing a novel is such a personally revealing, emotionally risky thing to do. I always worry when a book hits the stands–did I show too much? Go too far? Will readers see too much of my heart? From now on, I'm going to remember the remarks of Randy Pausch–when you get to the end of your life, you won't regret the risks you took, the things that embarrassed you or made you look silly; you'll be glad you followed your passion.
July 26, 2008 in Anna Nalick, authors, books, China Doll, fiction, Grateful Dead, Jerry Garcia, Just Breathe, music, music to write by, music videos, novel writing, novels, publishing, reading, writing | Leave a comment
 Dudes! The Baltimore Symphony has created the Dead Symphony No. 6, a tribute to the music of the Grateful Dead. It like, totally, reminded me of my favorite Dead song ever, China Doll. I miss Jerry Garcia! Here's the link to the YouTube:
I listen to music while I write, and each book has its own particular sound track. "China Doll" is about to join the playlist for my work-in-progress, Lakeshore Christmas. Anna Nalick's "Breathe 2AM" inspired a whole book, including the title, Just Breathe.
Who's watching this? We are having fast times at Camp Wiggs (visiting niece & nephew) and we are hooked. It's called "I Survived a Japanese Game Show" and it is awesome.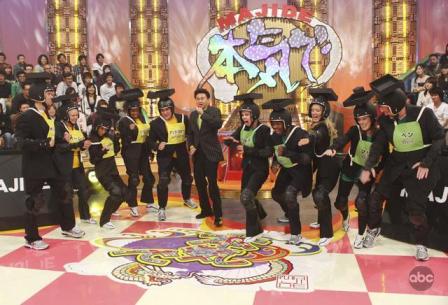 Where else can you see grown men and women dressed in diapers, duking it out for $? My highbrow entertainment suggestion du jour–Tuesdays, on ABC.
July 23, 2008 in authors, book groups, books, contests, fiction, free books, novels, publishing, reading, reading groups, writing | 2 comments
Real quick–the good folks at Bookreporter are giving away JUST BREATHE!
 Win a Copy of JUST BREATHE by Susan Wiggs for Your Group
We are celebrating the release of Just Breathe by Susan Wiggs — a story about life, love and new beginnings — with a special contest. Ten readers will have the opportunity to each win one advance reading copy of Just Breathe, which will be in stores on September 1st, for their group.
More About Just Breathe:
After her marriage abruptly ends, cartoonist Sarah Moon flees to the small northern California coastal town where she grew up — a place she couldn't wait to leave. As she comes to terms with her lost marriage, Sarah encounters a man she never expected to meet again: Will Bonner, the high school heartthrob she'd skewered mercilessly in her old comics. But just as her heart is about to reawaken, Sarah discovers she is pregnant — with her ex's twins.
Click here to read all the contest details.

Click here for the reading group guide.
July 22, 2008 in beaches, books, decorating, design, dogs, houses, midcentury modern, nature, Pacific Northwest, photography, scenery | 2 comments
So Mike came over to take some photos of the house for a magazine article. He's a talented photographer, and here's one of his recent images. I love this shot because it shows how truly blue a blue heron is.
In contrast, here's a shot of a heron on my beach. Nice lines, but you can't see how blue it truly is.
This heron seems to be territorial because I see it here a lot. It's the most patient of hunters, standing as still as a statue for the longest time before it strikes.
There's a heron statue in my pool. Here's a shot of Sonny, who swims over to the rock to escape Barkis, who refuses to get wet.
We interrupt this blog to remind you: GO SEE MAMMA MIA! This is my favorite kind of movie, the kind that drives snobby critics nuts because we love it so much that we completely ignore them. They're going to complain about the thin plot line (Hello? It's a musical comedy, guys, based on ABBA songs, ferpetesake) and some will even critique Pierce Brosnan's singing. True, he can't sing, but he does it with utter sincerity, like when your husband sings to you.
It's just a totally good time. Yeah, go ahead and leave your husband at home messing with the air compressor or hitting golf balls into the Sound or whatever guys do when you leave them alone.
The perfect dates for this movie are your best friend and your 11-year-old niece. If there's a better movie moment this summer than "Dancing Queen" in this movie, I will strap on my mother's platform boots!